Title:
Fables Vol. 1: Legends in Exile
Series:
Fables #1
Written By:
Bill Willingham
Penciller:
Lan Medina, Alex Maleev, James Jean, Bill Willingham
Inker:
Steve Leialoha, Craig Hamilton, Alex Maleev, James Jean, Bill Willingham
Publisher:
Vertigo
Pages:
127
Genres:
Comics, Fairy Tales, Fantasy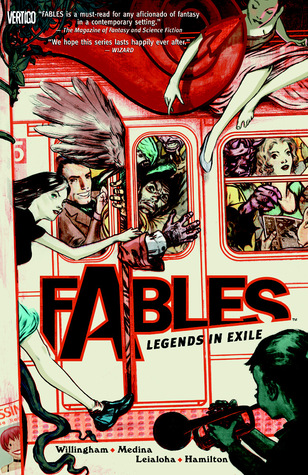 When a savage creature known only as the Adversary conquered the fabled lands of legends and fairy tales, all of the infamous inhabitants of folklore were forced into exile. Disguised among the normal citizens of modern-day New York, these magical characters have created their own peaceful and secret society within an exclusive luxury apartment building called Fabletown. But when Snow White's party-girl sister, Rose Red, is apparently murdered, it is up to Fabletown's sheriff, a reformed and pardoned Big Bad Wolf (Bigby Wolf), to determine if the killer is Bluebeard, Rose's ex-lover and notorious wife killer, or Jack, her current live-in boyfriend and former beanstalk-climber




Wow this comic series is so far up my street! So excite!
Having played Telltales game 'The Wolf Among Us' I just had to check out the comics it was based on.
Man, it did not disappoint.
The story centers around Fables such as Snow White, Big Bad Wolf, Prince Charming, Nat King Cole etc etc. They have been driven from their lands by 'The Adversary' and are now trying to eek out an existence all jumbled together in New York City. Rose Red is missing, presumed murdered and its up to detective Bigby Wolf to find out what happened.
I LOVE fairy-tale retellings
but this was something else entirely - taking the fairy-tale characters and making a whole new unconventional story for them. I just loved it! I could fan-girl about discovering this series forever. LOVE LOVE LOVE!
Can't wait to get stuck into the entire series.
Bill Willingham, you sexy beast you.