Title:
Voyager
Series:
Outlander #3
Author:
Diana Gabaldon
Publisher:
Arrow
Publication Date:
19 February 2015
Pages:
1072
Genres:
Romance, Historical Fantasy, Time-Travel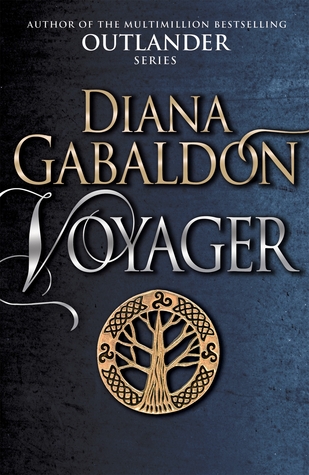 Their passionate encounter happened two centuries ago when the gallant renegade Jamie Fraser sent her back to her own time, pregnant with his child, believing he would be killed in the bloody Battle of Culloden in 1746. Now their daughter has grown up and Claire discovers that Jamie survived. Drawn back across the chasm of time she seeks once more the man she could never forget, the destiny she cannot ignore...
I found the first half of the book quite interesting. The reader learns a bit of what happened to Jamie in those years he and Claire spent apart, the reader is also shown flashbacks of a bit of what Claire went through as well. I found the entire situation at the end of Dragonfly in Amber and the beginning of Voyager just to be tragic. Being forced to spend 20 significant years away from the love of your life must have been just devastating. I have no idea how they both coped.
Claire does eventually go back through the stones to find Jamie once again and nothing was what I expected.
Jamie has become quite a complicated person
, gone is the somewhat innocent, younger man who dreamed of a simple, quiet life raising a family as Laird of Lallybroch. I found it heart-wrenching that both of Jamie and Claire's dreams of a life spent together were essentially smashed for 20 years.
20 years is a significant amount of time.
There are plenty of twists and turns and a whole new array of characters - at a certain point in the book
I literally rage-quitted it and was so angry!
Voyager really did bring out a lot of emotions for me and that was great.
The story spans continents, has pirates and tropical locations - there is a lot of pure adventure in the second half of Voyager. More detail on the time-travel aspect is explained and there is just a whole host of details throughout and a lot of interconnected events.
I really liked the fact that Gabaldon continued this epic love story with both characters in their forties. Its not really often in romance stories that the characters are that age, and it was refreshing.
One glaring negative
for me was that Gabaldon really comments negatively on women and their looks in Voyager. The reader is constantly bombarded with the fact that Claire is still hot and hardly aged a day despite being 20 years older. When Claire returns to the 18th Century there are so many comments of other women looking so much older than Claire whilst being younger than Claire. Claire is riddled with insecurity about her looks before she goes back to Jamie - I didn't care for this much. Claire also writes a letter to her daughter Brianna where she urges her not to get fat - because you know, thats just the worst thing she could do in her subsequent life without her mother. I don't think the book benefited in any way from these types of negative messages and comments that objectify women.
All in all, this book was just great - non-stop action and I enjoyed it just as much as the first so it was a 5 star read for me.