Title
: Fangirl
Author
: Rainbow Rowell
Publisher
: Macmillan Children's Books
Pages
: 432
Genres
: Romance, Young Adult,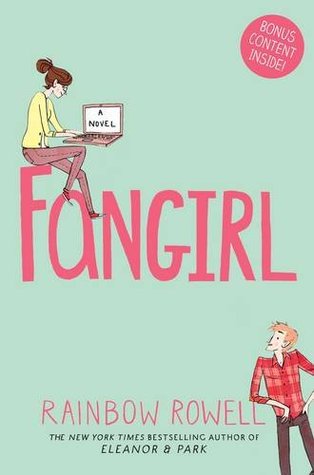 Cath and Wren are identical twins, and until recently they did absolutely everything together. Now they're off to university and Wren's decided she doesn't want to be one half of a pair any more - she wants to dance, meet boys, go to parties and let loose. It's not so easy for Cath. She's horribly shy and has always buried herself in the fan fiction she writes, where she always knows exactly what to say and can write a romance far more intense than anything she's experienced in real life.

Now Cath has to decide whether she's ready to open her heart to new people and new experiences, and she's realizing that there's more to learn about love than she ever thought possible ...
This was a bit of a hit and miss book for me.
I loved how the story explored themes of personal growth, family dynamics, personal adversity and mental health issues. Cath finds herself for the first time ever on her own, without her twin Wren. Cath is an extremely relatable main character, she finds it hard to adapt to the Uni lifestyle and has a touch of social anxiety. Cath loves to stay in her room and write fan fiction in the online Simon Snow fandom. She worries about her Dad being on his own and I just completely understood her struggles and anxieties. I have been Cath at one point in my life and I think a lot of other people will identify with her strongly also.
There is a strong romance underpinning this book and it was cute, silly but the romance aspects of the book was left a little wanting for me.
The first and last third of the book was very slow paced - I kept waiting for some sort of anti-climatic event to unfold. Some sort of shocking revelation but it just never came. It was not a page turning story for me, I kept having to come back to it. I also felt that the Simon Snow excerpts, that are interspersed throughout, broke the rhythm of the story. I felt myself thinking more than once as I was reading them, 'who cares'.
Despite its flaws, Fangirl is a book worth reading. I feel like the characters leaped off the pages and you do get invested in what happens to them all. I love Rainbow Rowell's style of writing, the way she writes romance is so gushingly cute and this book is no exception.