Title:
Me Before You
Series:
Me Before You #1
Author:
Jojo Moyes
Publisher:
Penguin
Pages:
528
Genres:
Women's Fiction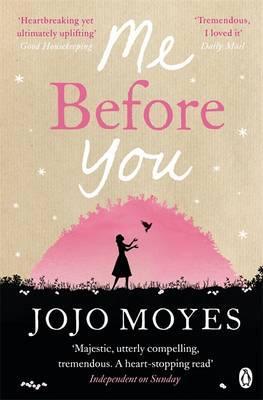 Lou Clark knows lots of things. She knows how many footsteps there are between the bus stop and home. She knows she likes working in The Buttered Bun tea shop and she knows she might not love her boyfriend Patrick.




What Lou doesn't know is she's about to lose her job or that knowing what's coming is what keeps her sane.




What Will doesn't know is that Lou is about to burst into his world in a riot of colour. And neither of them knows they're going to change the other for all time.



One of the most heart-warming (and at the same time heart-breaking) stories I have ever read.
Lou is 26 and living a comfortable, boring life. She never takes risks, she still lives with her parents and she is perfectly happy to settle for menial low paid jobs. I really liked Lou - she was a sympathetic character and she is someone I feel a lot of people could relate to. I love that she is a quirky character who dresses a bit wacky - I just loved her.
Will is an amazing character - I really empathised with his pain and frustration at being paralysed through a freak accident. I loved Will, he is a really inspiring character. I loved that he takes Lou under his wing and tries to open her up to more of the world, to live her life to the fullest.
There are so many positive messages throughout this book such as to push through adversity, live life to the fullest and to spend each day doing something meaningful as you never know when it will be the last. I, like Lou, did not want to let Will go and I shed many a tear over that man and the hopelessness of his situation.
I think the book ended perfectly, this book takes you on a fantastic journey with Will and Lou and there really was an apt conclusion to the story. I would recommend this book highly to everyone.