Title:
Through the Woods
Author:
Emily Carroll
Publisher:
Faber & Faber
Publication Date:
7 May 2014
Pages:
208
Genres:
Graphic Novel, Fairytales, Horror, Young Adult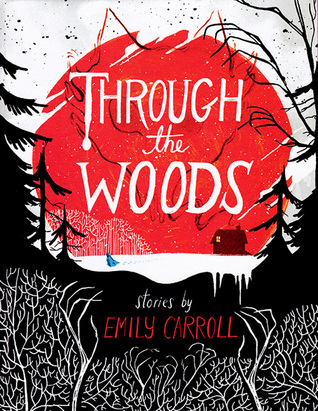 'It came from the woods. Most strange things do.'

Five mysterious, spine-tingling stories follow journeys into (and out of?) the eerie abyss.
These chilling tales spring from the macabre imagination of acclaimed and award-winning comic creator Emily Carroll.

Come take a walk in the woods and see what awaits you there...
I came across this book because I wanted something quick to read that would send shivers down my spine.
Through the Woods is a book of short illustrated stories that are reminiscent of fairy tales and are very strange and creepy. The illustrations are just breathtakingly beautiful, each story has a slightly different art style.
As for the stories themselves, I didn't find them particularly frightening. I did not experience a single goose bump whilst reading them - I appreciated the art and how creepy the stories were but I feel like this book would more likely scare a young teenager. Nonetheless, I was glad I took the time to read it, it is a perfect book to read in a chilly October in the dark and would make a great gift.