Title:
Dreams of Gods & Monsters
Series:
Daughter of Smoke & Bone #3
Author:
Laini Taylor
Publisher:
Hodder & Stoughton
Pages:
613
Genres:
Fantasy, Young Adult, Paranormal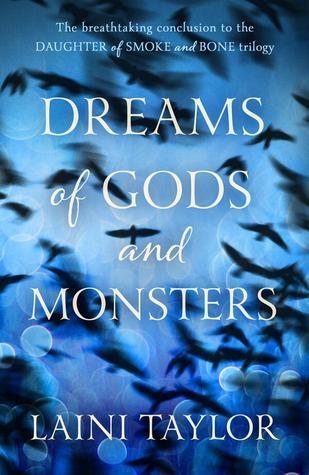 By way of a staggering deception, Karou has taken control of the chimaera rebellion and is intent on steering its course away from dead-end vengeance. The future rests on her, if there can even be a future for the chimaera in war-ravaged Eretz.

When Jael's brutal seraph army trespasses into the human world, the unthinkable becomes essential, and Karou and Akiva must ally their enemy armies against the threat. It is a twisted version of their long-ago dream, and they begin to hope that it might forge a way forward for their people. And, perhaps, for themselves. Toward a new way of living, and maybe even love.

But there are bigger threats than Jael in the offing. A vicious queen is hunting Akiva, and, in the skies of Eretz ... something is happening. Massive stains are spreading like bruises from horizon to horizon; the great winged stormhunters are gathering as if summoned, ceaselessly circling, and a deep sense of wrong pervades the world.

From the streets of Rome to the caves of the Kirin and beyond, humans, chimaera and seraphim will fight, strive, love, and die in an epic theater that transcends good and evil, right and wrong, friend and enemy. At the very barriers of space and time, what do gods and monsters dream of? And does anything else matter?
This is the final book of the Daughter of Smoke & Bone trilogy. It was a satisfying conclusion to the story but it fell a little flat for me.
Karou & Akiva are back, trying to stop the Dominion from gaining weapons of mass destruction from the human world; whilst trying to unite chimaera and Misbegotten. This storyline fell a little dull to me, it is very very slow paced. There is a lot of political intrigue, and descriptions of battles and rivalries that ultimately lost me.
New characters are introduced, Eliza and the mysterious Stelians. I found the continuation of the world building of Eretz fascinating, the reader learns more of Eretz's history and how it is possible to travel between worlds. Again, there is barely any romance between Karou & Akiva. For the most part they are kept apart by their duties uniting their two forces and they spend a lot of time gazing at one another. This was infuriating to me, I think there was just one kiss in the entire book. I wanted the second and third book to centre on their romance but it ended up being a very small sub-plot.
All in all my feelings about this trilogy is that Daughter of Smoke & Bone started very strong and it got progressively worse in each instalment from there. I think throughout Days of Blood & Starlight and Dreams of Gods & Monsters I was struggling because I was expecting more.