Title
: Landline
Author
: Rainbow Rowell
Publisher
: Orion
Pages
: 368
Genres
: Women's Fiction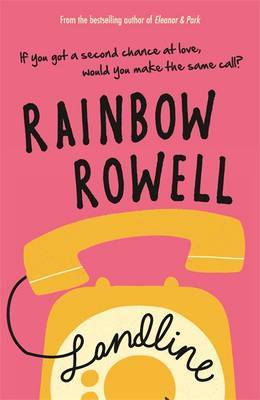 Georgie McCool knows her marriage is in trouble. That it's been in trouble for a long time. She still loves her husband, Neal, and Neal still loves her, deeply — but that almost seems besides the point now. Maybe that was always besides the point.

Two days before they're supposed to visit Neal's family in Omaha for Christmas, Georgie tells Neal that she can't go. She's a TV writer, and something's come up on her show; she has to stay in Los Angeles. She knows that Neal will be upset with her — Neal is always a little upset with Georgie — but she doesn't expect to him to pack up the kids and go home without her.

When her husband and the kids leave for the airport, Georgie wonders if she's finally done it. If she's ruined everything. That night, Georgie discovers a way to communicate with Neal in the past. It's not time travel, not exactly, but she feels like she's been given an opportunity to fix her marriage before it starts . . .

Is that what she's supposed to do? Or would Georgie and Neal be better off if their marriage never happened?
The reader is introduced to an intimate portrayal of one married couple's relationship. Georgie is a working mother, and her husband Neal is a stay at home dad looking after their two children. I really enjoyed the non-traditional structure of their relationship and home life, it was refreshing to read about. Perhaps unsurprisingly, Georgie's focus on her job and her close relationship with her co-worker and best friend, Seth is a source of tension.
When Neal decided to take the children to his parents in Omaha without Georgie and promptly ignored her, I really felt for him. Christmas is a big deal, and it was not the best time for Georgie to choose her job over her family. I also was surprised that Seth did not think of Georgie's family before accepting a tight work schedule to land their big break in the week of Christmas.
The landline connection to past Neal in 1998 added an interesting layer, giving a lot more context into how their relationship grew and changed. There are a few secondary characters that I felt could have been more fleshed out such as Heather, Kendrick, Scotty and Dawn. These people merited a couple of casual mentions but didn't really add much to the overall plot I thought.
In essence, this is a heart-warming Christmas tale about reconnecting with family which wasn't what I was expecting but it was enjoyable nonetheless.