Title:
Monsters of Elsewhere
Author:
Matthew Waldram
Publisher:
Self-published
Pages:
598
Genre:
High/Epic Fantasy
Source:
Free ARC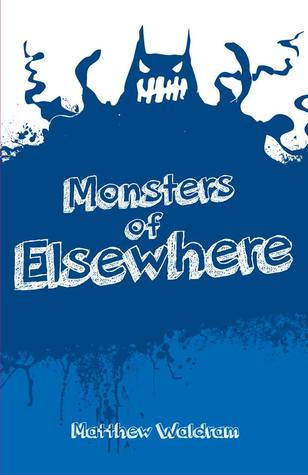 There is a land – let's call it Elsewhere – that is in no small amount of trouble. Giant wolves are tearing villages apart, a monster king is bringing his army across the sea to capture the legendary Hall of Glass, and the High Lord has completely disappeared.




Henry Whistler was eight when he got lost at a bus station in Hounslow. There his adventure began. For that was when he met the exiled invisible man, the monster swordsman, and the girl with the bright red hair.



I love me a good fantasy and this debut novel did not disappoint.
It follows the story of Henry at various points in his life and his adventures with monsters in another world, Elsewhere. I found the book chock full of some brilliant dry humour, and a lot of hilarious comments about facets of everyday British life. Humour aside, there was also serious bits too, some gory bits and absolutely loads of fantastical adventure. I really enjoyed reading this book.
There are loads of characters that the reader is introduced to and I loved the way in which all their individual stories converged into one for a load of interesting twists and turns in the story.
If you want a fairly fun, light-hearted read with a load of British dry humour (with the occasional serious and gory bit) and an epic fantasy tale, then give this book a try; I did and wasn't disappointed.
***Disclaimer*** I received the book for free through Goodreads First Reads - all the opinions and views stated in my review are entirely my own.