Title:
Cinder
Series:
The Lunar Chronicles #1
Author:
Marissa Meyer
Publisher:
Puffin
Pages:
387
Genres:
Young Adult, Science-Fiction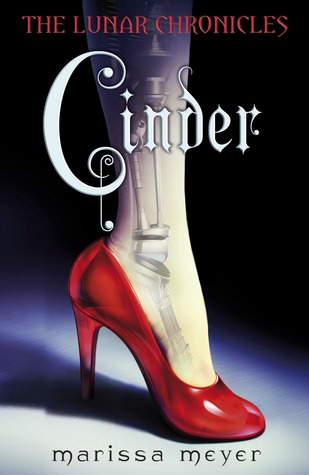 A forbidden romance.

A deadly plague.

Earth's fate hinges on one girl . . .

CINDER, a gifted mechanic in New Beijing, is also a cyborg. She's reviled by her stepmother and blamed for her stepsister's sudden illness. But when her life becomes entwined with the handsome Prince Kai's, she finds herself at the centre of a violent struggle between the desires of an evil queen - and a dangerous temptation.

Cinder is caught between duty and freedom, loyalty and betrayal. Now she must uncover secrets about her mysterious past in order to protect Earth's future.

This is not the fairytale you remember. But it's one you won't forget.

A beautiful sci-fi twist on the classic fairytale.
Cinder resides in New Beijing, a place existing in a futuristic Earth, there has been four world wars and the whole planet is unified. Cinder is a cyborg, a human who has prosthetic high tech robotic parts, which makes her firmly a second class citizen. Just like
Cinderella
, Cinder has a stepmother and 2 stepsisters - a prince and a kingdom is also involved.
There are so many
layers
to this story, from the Letumosis plague, to the Lunars who reside on the moon, and an evil queen. The story just draws the reader in and it is just fascinating. I am left with so many questions after finishing this book, and in some ways I am glad there is still a lot of mystery. I want to pick up
Scarlet
almost immediately to find the answers.
Although New Beijing is really cool, I wish there were more descriptions of the appearance of the city and of the culture residing there. The culture and city is quite ethnically ambiguous, I think more could have been done to really flesh out the world building. I also guessed very quickly the major reveal at the end of the book, and I really would have preferred to have been shocked by the revelation.
As I finished the book though, those things did not really matter as I was so engrossed in the world of
Cinder
. I can't wait to continue the series as I am particularly motivated to learn more of the mysterious Lunars and the history of the colonisation of the moon.
Highly recommended.