Title:
Nimona
Author:
Noelle Stevenson
Publisher:
HarperTeen
Pages:
272
Genres:
Graphic Novel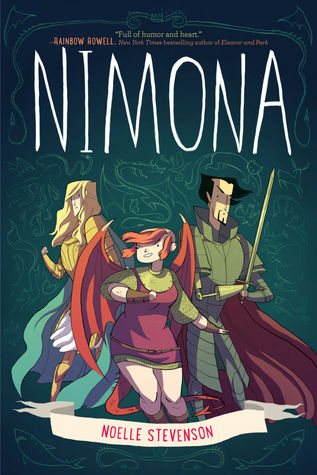 Nimona is an impulsive young shapeshifter with a knack for villainy. Lord Ballister Blackheart is a villain with a vendetta. As sidekick and supervillain, Nimona and Lord Blackheart are about to wreak some serious havoc. Their mission: prove to the kingdom that Sir Ambrosius Goldenloin and his buddies at the Institution of Law Enforcement and Heroics aren't the heroes everyone thinks they are.

But as small acts of mischief escalate into a vicious battle, Lord Blackheart realizes that Nimona's powers are as murky and mysterious as her past. And her unpredictable wild side might be more dangerous than he is willing to admit.
This graphic novel is so heart warming. I love how Nimona is an alternate looking character, she is so funny and so cool. Nimona is a girl who unapologetic, who is who she is, and does whatever she wants while not caring about what anybody else thinks. I love bad ass characters like her, I also love how the focus is on the 'villains' of the story.
The story is funny, sad in places and at its heart a beautiful tale
. The setting is a weird blend of traditional fantasy elements blended with futuristic science-fiction which was a little jarring but some how worked, bizarrely, for this story. I am not sure I am wholly satisfied by the conclusion, it was a little too open ended for me personally.
The art is
beautiful
, some of the names of the characters were just so brilliantly ridiculous - Sir Ambrosius Goldenloin or Sir Mansley Girthrod anyone? All in all, this book is a quick, light worthwhile read full of humour and full of heart.