Title:
Everything Everything
Author:
Nicola Yoon
Publisher:
Corgi Childrens
Pages:
320
Genres:
Romance, Young-Adult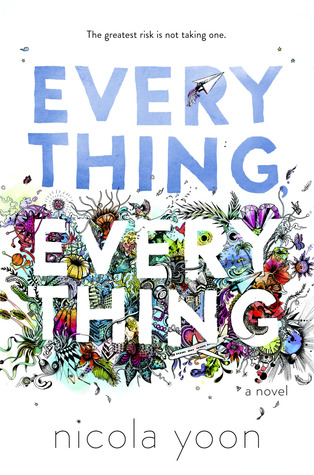 My disease is as rare as it is famous. Basically, I'm allergic to the world. I don't leave my house, have not left my house in seventeen years. The only people I ever see are my mom and my nurse, Carla.

But then one day, a moving truck arrives next door. I look out my window, and I see him. He's tall, lean and wearing all black—black T-shirt, black jeans, black sneakers, and a black knit cap that covers his hair completely. He catches me looking and stares at me. I stare right back. His name is Olly.

Maybe we can't predict the future, but we can predict some things. For example, I am certainly going to fall in love with Olly. It's almost certainly going to be a disaster.
A book about a girl called Madeline, who is allergic to everything until one day she falls in love with a boy beyond her vacuum sealed prison, a love that changes her life forever.
Firstly, I love the structure of
Everything Everything
. There are email and IM transcripts, randomness and drawings.
The book strongly resembles a diary and is a very quick read
. I cared about Madeline and her situation was beyond tragic. I could not imagine living my whole life in the same house, having only ever interacted with my mother and my nurse. Talk about a living hell. Madeline has a very sweet voice. She is 18 but because of the way she has been brought up, she comes across as much younger.
Olly was just amazing. The whole interaction with the bundt cake was just so funny and one of the best moments in the whole book.
Everything Everything
felt like a very loose retelling of Repunzel, especially as Olly first claps eyes on Madeline at her bedroom window.
The whole story was very sweet if not a bit predictable
. I saw the plot twist coming a mile off but I loved the ending, it suited the story perfectly.
This is great book to pick up in a reading slump as it is a quick and easy read. Not to mention very fun as well.