Title:
Matilda
Author:
Roald Dahl
Publisher:
Puffin
Pages:
240
Genres:
Childrens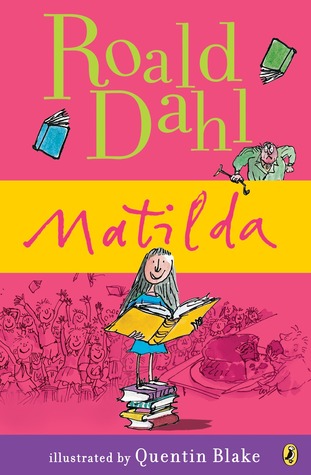 Matilda is a sweet, exceptional young girl, but her parents think she's just a nuisance. She expects school to be different but there she has to face Miss Trunchbull, a kid-hating terror of a headmistress. When Matilda is attacked by the Trunchbull she suddenly discovers she has a remarkable power with which to fight back. It'll take a superhuman genius to give Miss Trunchbull what she deserves and Matilda may be just the one to do it!
This was one of my favourite Roald Dahl books as a child, and
it was every bit as funny and brilliant as I remembered
. It is frightening how much I related to Matilda growing up, and I just love Roald Dahl's style of writing. The characters in
Matilda
feel like caricatures of real people that are encountered in a child's everyday life. I especially love the imaginative insults in this book such as
'festering gumboil'
and
'poisonous little pockmark'
, I find these absolutely hilarious.
There were a lot of things I never particularly noticed as a child reading
Matilda
. It is actually a really dark story of a very bright girl born into a family who are abusive, encouraging her to play some very mischievous pranks on them in revenge. To then attend a school run by a tyrant who delights in grabbing children by the hair and flinging them out of windows!? I am pretty sure as a kid,
Matilda
inspired me to do some pretty impish things to adults in positions of power...ahem. Also, Miss Honey lived on a pound a week?! Obviously 8 year old me thought that was reasonable.
I love Dahl's cutting commentary of a certain type of parent (we all have known a couple) and I think this passage really sums it up:
"...the parents looked upon Matilda in particular as nothing more then a scab. A scab is something you have to put up with until the time comes when you can pick it off and flick it away. Mr and Mrs Wormwood looked forward enormously to the time when they could pick their little daughter off and flick her away, preferably into the next county or even further than that."
It's wonderful for a child who doesn't feel like they fit in with their family (for whatever reason) to read about a character that they can resonate with. Ultimately Matilda emerges the hero of this story, and has her happy ending despite the very bleak and depressing circumstances at home.
Matilda is truly timeless and just as enjoyable (if not more) re-reading the story as an adult.