Title:
The Cuckoo's Calling
Series:
Cormoran Strike #1
Author:
Robert Galbraith
Publisher:
Sphere
Pages:
449
Genres:
Mystery, General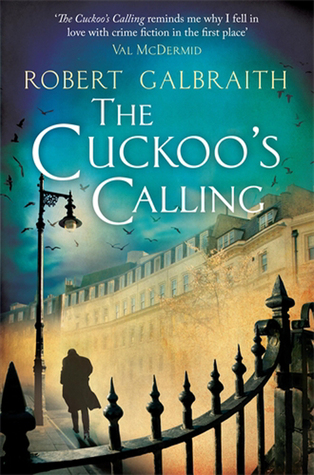 After losing his leg to a land mine in Afghanistan, Cormoran Strike is barely scraping by as a private investigator. Strike is down to one client, and creditors are calling. He has also just broken up with his longtime girlfriend and is living in his office.




Then John Bristow walks through his door with an amazing story: His sister, the legendary supermodel Lula Landry, known to her friends as the Cuckoo, famously fell to her death a few months earlier. The police ruled it a suicide, but John refuses to believe that. The case plunges Strike into the world of multimillionaire beauties, rock-star boyfriends, and desperate designers, and it introduces him to every variety of pleasure, enticement, seduction, and delusion known to man.




You may think you know detectives, but you've never met one quite like Strike. You may think you know about the wealthy and famous, but you've never seen them under an investigation like this. Introducing Cormoran Strike, this is the acclaimed first crime novel by J.K. Rowling, writing under the pseudonym Robert Galbraith.
I was so excited to read this book because I love mysteries but tragically I haven't read a whole lot of them. Throughout, I suspected everyone and I had so many theories but I was just so wrong. There is no way I could have guessed the final reveal where everything clicked into place at the end and it just
blew my mind
.
Cormoran Strike is a great main character, like many of us Strike is flawed and rough around the edges but he is so likeable and has a fascinating backstory. By comparison Robin's character felt a little lacklustre in this book. I am sure that in the subsequent instalments of this series her personality will feature more prominently. I have to say that the first meeting between Robin and Strike was comedy gold, a pure slapstick moment.
As for the victim, what surprised me most was how sorry I felt for poor Lula. On the surface she seems to be every bit as vapid as she first appears but predictably there was so much more to the story. I really enjoyed seeing the investigation of her death unfold and the truths about her life that are uncovered.
The only issue for me was that the pacing seemed a little slow in some parts
. Nonetheless, the writing flows beautifully and it is highly engaging throughout. I can't wait to read further into the series and I would highly recommend.