Title:
The Book Thief
Author:
Markus Zusak
Publisher:
Black Swan
Pages:
560
Genres:
Historical Fiction, Young Adult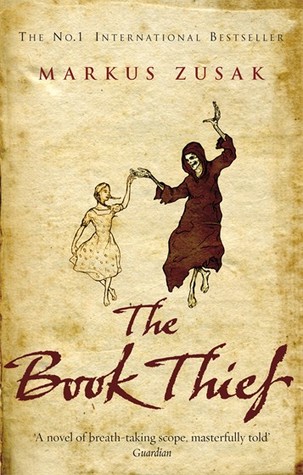 It's just a small story really, about among other things: a girl, some words, an accordionist, some fanatical Germans, a Jewish fist-fighter, and quite a lot of thievery. . . .

Set during World War II in Germany, Markus Zusak's groundbreaking new novel is the story of Liesel Meminger, a foster girl living outside of Munich. Liesel scratches out a meager existence for herself by stealing when she encounters something she can't resist–books. With the help of her accordion-playing foster father, she learns to read and shares her stolen books with her neighbors during bombing raids as well as with the Jewish man hidden in her basement before he is marched to Dachau.

This is an unforgettable story about the ability of books to feed the soul.
What makes this story so unique is that it is narrated by Death
. Death is a really kooky character and is fairly apathetic as a narrator with frequent warnings that the story doesn't end well, essentially spoiling the ending of the book. I found this made me want to read to the end of the book just to find out what exactly happens.
The story mainly centres around Liesel, the book thief as she is fostered in Molching, Germany during Hitler's Third Reich. It was really interesting to see this period in history through the eyes of Liesel and her friends as they came of age under hardship and adversity. A lot of the details of the atrocities of the war are hinted at or conveyed to Liesel through others.
Liesel and her foster father Hans have a beautiful father-daughter relationship which really warmed my heart. Liesel also has wonderful relationships with her friends and neighbours as they each try to help each other. Liesel's best friend Rudy provided a lot of comic relief and I felt emotionally invested in the fate of everybody. The only thing that did annoy me in this story was the profuse repetition of the words
'saumensch'
and
'saukarl'
, which I found unnecessary.
There is a major theme focusing on the role that books can have in a person's life. Liesel's love of books helps her through one of the bleakest times of her life, offering her escape and comfort. Max's handwritten and illustrated booklets about his life gave him an outlet to express his journey as a Jew living in Nazi Germany.
This book is just brilliant, the film adaptation is brilliant and I would highly recommend
.