Title:
Clockwork Princess
Series:
The Infernal Devices #3
Author:
Cassandra Clare
Publisher:
Walker Books
Pages:
567
Genres:
Young Adult, Paranormal, Fantasy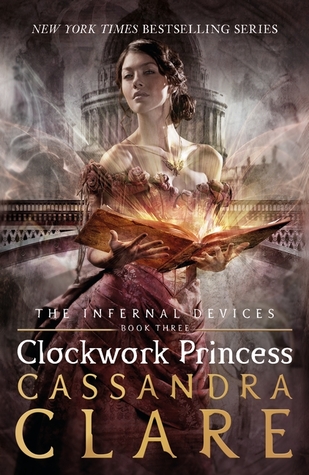 THE INFERNAL DEVICES WILL NEVER STOP COMING

A net of shadows begins to tighten around the Shadowhunters of the London Institute. Mortmain plans to use his Infernal Devices, an army of pitiless automatons, to destroy the Shadowhunters. He needs only one last item to complete his plan: he needs Tessa Gray.

Charlotte Branwell, head of the London Institute, is desperate to find Mortmain before he strikes. But when Mortmain abducts Tessa, the boys who lay equal claim to her heart, Jem and Will, will do anything to save her. For though Tessa and Jem are now engaged, Will is as much in love with her as ever.

As those who love Tessa rally to rescue her from Mortmain's clutches, Tessa realizes that the only person who can save her is herself. But can a single girl, even one who can command the power of angels, face down an entire army?

Danger and betrayal, secrets and enchantment, and the tangled threads of love and loss intertwine as the Shadowhunters are pushed to the very brink of destruction in the breathtaking conclusion to The Infernal Devices trilogy.
A fantastic conclusion to
The Infernal Devices
trilogy,
this book smashed my heart to pieces then put it back together again
. I really didn't like where I thought the story was going midway through the book but I could never have guessed the ending, it was perfection.
The reading experience wasn't as emotional as I was expecting but most of the questions I had during the first two books were answered. Jem's terminal sickness reaches its shocking conclusion and the true parentage of Tessa is finally revealed. Mortmain's sinister plan for Shadowhunters is uncovered and reaches its conclusion in a breathtaking final showdown against his vast automaton army. It was one of the best battles in the whole series.
The Will/Tessa/Jem love triangle that has been tormenting readers since the first book reaches its end and Jem and Will's parabatai bond is tested to its absolute limit. I don't want to go into any spoilery details but heed my warning and
guard your heart closely
.
The secondary characters in this book really shine brightly
. I loved Cecily, Bridget, Sophie, Charlotte, Gabriel, Gideon, Henry, Magnus Bane - just everyone had brilliant roles to play and romance blossoms everywhere. The female characters were especially sassy and (with the exception of Tessa) the complete opposite of damsel in distress. Tessa was often a bit helpless and standing on the sidelines which disappointed me a little, especially when comparing her to Cecily. On the whole though, a pretty satisfactory conclusion to one of my favourite series.
I would highly recommend
The Infernal Devices
and in my opinion it is a better series than
The Mortal Instruments
.