Title:
In Real Life
Author:
Jessica Love
Publisher:
St. Martin's Griffin
Pages:
240
Genres:
Young Adult, Contemporary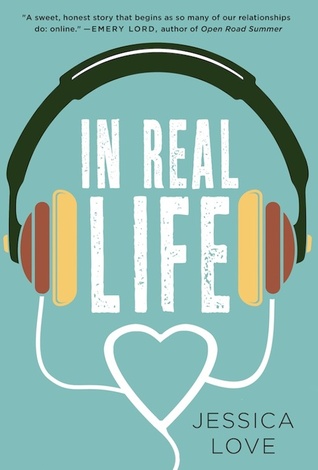 Hannah Cho and Nick Cooper have been best friends since 8th grade. They talk for hours on the phone, regularly shower each other with presents, and know everything there is to know about one another.

There's just one problem: Hannah and Nick have never actually met.

Hannah has spent her entire life doing what she's supposed to, but when her senior year spring break plans get ruined by a rule-breaker, she decides to break a rule or two herself. She impulsively decides to road trip to Vegas, her older sister and BFF in tow, to surprise Nick and finally declare her more-than-friend feelings for him.

Hannah's surprise romantic gesture backfires when she gets to Vegas and finds out that Nick has been keeping some major secrets. Hannah knows the real Nick can't be that different from the online Nick she knows and loves, but now she only has night in Sin City to figure out what her feelings for Nick really are, all while discovering how life can change when you break the rules every now and then.
Reading this book was like eating a bag of sweets, I just could not put it down. At first I wasn't sure if this book was for me as I find many YA contemporaries hit or miss,
BUT
I was pleasantly surprised.
The contrast between online and offline lives has always really fascinated me so of course I was instantly interested in Hannah's road trip to surprise her online best friend of four years, Nick. I wanted to know if he was who he said he was and the setting of Las Vegas was just perfect. I don't want to give too much away but of course
not all is what it seems
...
I really liked Hannah as a character because she is the stereotypical 'good girl' who listens to her parents, is really uptight and somewhat of a control freak so it was interesting to see Vegas get under her skin. I like how the book doesn't shy away from issues like underage drinking and gambling which gave a layer of realism to the story. Having been in Hannah's situation a couple of times in my life,
I completely sympathised with her
and I think anyone who has had a similar experience would also relate.
Hannah's crazy weekend meeting Nick was just so entertaining, I would recommend
In Real Life
to readers who love the TV show
Catfish
but it's not anywhere near as dark. It's more like
Catfish
light. Personally I would have liked a little more edge to the story but I enjoyed it all the same. I really feel like there needs to be more books focusing on online relationships/friendships as it's such an interesting dynamic and all too common nowadays. There was a few clichés but I think they were done well and the story was compelling enough to keep me turning pages.
A fun page turner, I would highly recommend
.